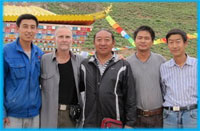 The medical/solar team accomplished a great deal in a short amount of time. Project director Kirk Moulton thanks everyone who helped to make this trip a success. In particular, many thanks are sent to Bardor Rinpoche, his family and all of the villagers from the Raktrul area who made this project possible. Walt Ratterman, Sharon Lang, and Don Dyer were core participants, without them the project would have never gotten off the ground. The Raktrul Foundation is grateful to everyone whose kind donations made this project possible. Your generosity helped so many.
The Medical/Solar team initially expected to set up a temporary clinic, do a needs analysis, and to install 800-1000 watts in solar power. The short film "Night Into Day" provides a complete overview of the initial plans for the project.
The team reports that they accomplished far more than hoped for. The Medical Team saw over 1100 patients in 11 days. Patients ranged in age form 6 months to 82 years old and included monks, nuns, lamas, nomads, and local village people. Please visit the Photo Gallery for the Medical Project.
90% of Tibetans people treated received acupuncture treatments. Other treatments included vision testing/fitting of prescription glasses and sunglasses, acupuncture treatments, TENS unit treatment, wound care, teachings about diet and hygiene, dispensing of medications including: ASA, Ibuprofen, Traumeel, Tiger Balm, Acidophilus, Pepcid, Vitamin E, Vitamin C, Children's Vitamins, Fish Oil, Antibiotics, Eye Drops and Chinese Herbal Medicines.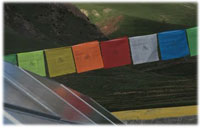 The Solar Project had budgeted $24,000 dollars to provide 1000 watts of power to the greater Raktrul area. Due to incredible pricing, the team was able to purchase 2000 watts of power for $18,000 USD and thus were able to complete installations and training at the following facilities: the Nunnery/Clinic, the House at Raktrul, the Orphanage/School, and the Community Center.
In addition, The Solar Team managed to outfit three more 100 Watt systems, consisting of solar panels, charge controller and battery. These systems will be used in another school building and two other sites to be determined. Please enjoy some photos of the Solar Project.
Contact Us:
Medical/Solar Project
C/O Raktrul Foundation
37 Pinewood Lane
Red Hook, NY 12571
The Medical/Solar Team is very pleased to tell you that the Chinese government is giving back land nearby with two schoolhouses and a small house that the village has committed to turn into a medical facility . This return of land frees $100,000 the project thought would be needed for a permanent building. This money, once raised, can be used to purchase much needed x-ray, and dental equipment as well as help to provide doctors and treatment to the village.
We are off to a very good start, and invite you to continue to participate in the creation of a fully staffed medical facility in the Raktrul area. For more information, subscribe to our e-mail newsletter, or visit The Raktrul Foundation online.

Bardor Tulku RInpoche