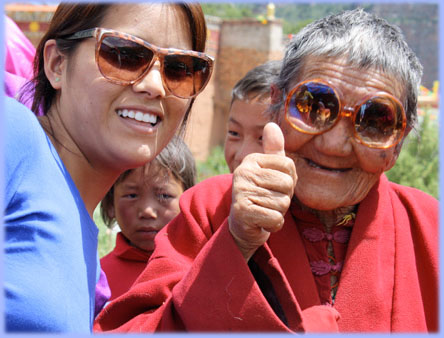 As we mentioned in our last newsletter, the Medical/Solar Team offered vision testing as well as fitting of prescription glasses and sunglasses. We are pleased to post a little photo album so you may enjoy a few images of that mission.
The Ratkrul Foundation sends warm thanks again to the Lions Club and our kind donors for helping so many with the gift of improved sight. Click to enjoy the Photo Album. No donation is too small.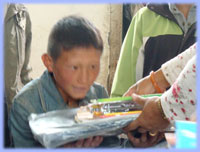 Bardor Tulku Rinpoche maintains a free school, Shay Chay Dumra, which translates to "Learning Gardens." The six room school house is located in Pangta Village, Nangchen, and is open from 8:30 AM until 3:00 PM. As many as 55 to 60 children attend, children who otherwise would not have access to a grade school education. Visit our Photo Album for the 2009 visit.
The Solar Team hopes to provide computers to the class rooms in the near future. Should you wish to support this effort, or the Ratkrul Foundation in general, please subscribe to our e-mail newsletter at The Raktrul Foundation.


Bardor Tulku Rinpoche